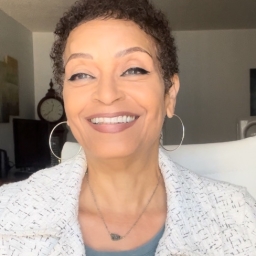 Gay Thomas Wilson
Certified Life/Career Coach - Speaker - Mental Health Advocate /Click Play Video
---
4 Easy Steps To Purpose DIY E-Course -Activate Your Purpose
E-Course-36Page Full Color Guide
IS YOUR ANSWER "YES" TO ANY OF THESE QUESTIONS?

Are You feeling stuck in your current circumstances?

Uncertainty about which life and career path to take.

Difficulty reconciling faith with everyday life.

Struggling with work/life balance.

Feeling disconnected from your spiritual practice

Feeling overwhelmed by your goals and ambitions.

Inability to prioritize your mental, emotional, and spiritual well-being.

Difficulty finding time for self-care.

Are you struggling with Purpose Anxiety?
IS TIME FOR A REAL CHANGE...
Align with your God-Given Purpose and clarify your career choices with Faith-Based Life & Career Coaching!

Activate your Gifts, Talents, Skill-Set & Lived Experience, your most valuable assets.

Get ahead of the curve and re-establish your value in today's marketplace guided by your Purpose through Faith-Based Life & Career Coaching.

Unlock your true potential and step into your God-Given Purpose to begin living your unique & authentic version of success.