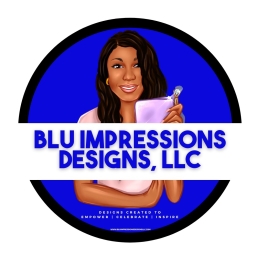 Blu Impressions Designs LLC
Designs that empower, inspire and uplift
---
LET'S PUBLISH YOUR JOURNAL TODAY🦋
1:1 Session — 1 hour, 30 minutes
Have you ever thought about writing a book or leaving a legacy?
Blu Impressions Designs LLC now empowers independent authors to publish their works. We help bring your work into the hands and onto the screens of readers by assisting you with all of your publishing and marketing needs. We transform your manuscript into a customizable book that can be enjoyed and shared across a multitude of platforms.
We strongly believe that your work is your work, which is why we take 0% royalties and you retain 100% ownership. We just want to provide independent authors with the services and tools you need to succeed!
We have published hundreds of works that are now generate income and legacy for authors
affordable

customizable

payment plans available

professional process

helpful, knowledgeable

experienced staff members

affordable.
Lets get you published in multiple platforms within 60 days! Are you ready let's get it!
Contact me today.🦋 (Investment starts at $297)
AMAZON | BARNES & NOBLES | BOOKS A MILLION | WALMART