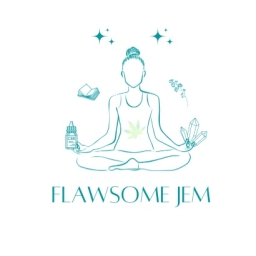 Flawsome Jem
Intuitive Healer for Frustrated & Overwhelmed High Achieving Empaths! Start healing you & stop losing your shit!
---
Crystal Magic: Self Study Healing Course
Crystal Magic:
Learn to heal yourself with the magic of crystals & meditation's infused with 5d+ reiki & deep dive journaling to activate your inner healing force!
5 week meditation & crystals course from Flawsome Jem.

Powerful & Transformational self study course
Heal your mind, body & soul
Weekly meditations with accompanying workbooks to help you activate your inner healing force!
Week 1: Nurture Yourself with Rose Quartz
Week 2: Ground Yourself with Black Tourmaline
Week 3: Find Guidance & Clarity with Clear Quartz
Week 4: Reclaim Your Power with Citrine
Week 5: Reflections & Celebrating
🔮 5 WAYS CRYSTALS CAN BOOST EMPATHS' LIVES FOREVER! 🔮
✨ CRYSTALS REALLY ARE MAGIC! ✨
This is why I am so passionate about bringing you CRYSTAL MAGIC into your life as a tool to help take back your power & regain clarity, so you can start living your best life forever! 💥
1. Crystals Can Help You Attract Positive Energy!
2. Crystals Can Help Keep You Calm & Composed!
3. Crystals Can Help Nurture Physical, Emotional & Spiritual Healing!
4. Crystals Can Help Improve Concentration Power & Creative Mindset!
5. Crystals Have The Power To Transform One's Life!
So if you want to be empowered, healed & start living your best life forever, join crystal magic today and discover the magic and powers of 5d+ reiki, crystals & meditation!
➡️ YOU NEED 🔮 CRYSTAL MAGIC 🔮
🔥 Over 5 weeks, you will go from lost & drained to empowered & healed with my guidance 🔥
* ALL MEDITATIONS IN THIS COURSE ARE INFUSED WITH THE ADDED HEALING BONUS OF 5D+ REIKI! *
'' A brilliant course that I will go back to again and again, I'm sure.
I totally recommend this for your journey to healing & empowering yourself. ''
Keren D, UK.