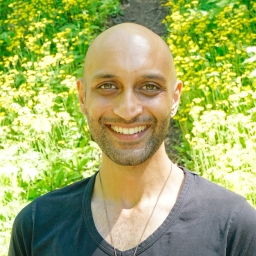 Talwinder "Terry" Sidhu
Beyond Mindfulness Meditation Teacher
---
ADVANCED/NEURODIVERGENT: Ajna Meditation Course
>>SCROLL TO BOTTOM FOR FREE PREVIEW<<
AJNA (Aag-nia) is the Sanskrit word for third-eye or third-eye chakra. It literally means command, and the root sound of the word, 'jna', means knowledge.
ABOUT AJNA MEDITATION
It's a simple yet powerful meditation technique that helps you activate and engage the meditative state so that you can:
Escape the trappings of depression and anxiety

Tap into a higher intelligence to develop solutions to your problems...

Clear the negative energy that causes stress & negative thoughts...

Connect with an inner light that'll bring you peace...

Manage both physical and emotional pain...

Develop mindfulness and compassion...

Start the journey into transcendence...
What's Included:
> A 3-PART VIDEO SERIES GUIDING YOU THROUGH THE AJNA APPROACH TO MEDITATION:
Lesson I. THE AJNA ACTIVATION
Learn how to condition your mind to meditate and CONNECT to the HIGHER SELF
Lesson II. THE AJNA MEDITATION
Develop the skill to meditate, detach from distractions, and EXIST as the HIGHER SELF
Lesson III. THE AJNA JOURNEY
Initiate the transcendental journey and MOVE the HIGHER SELF into states of enlightenment
> THE GOLDEN LIGHT Experience Video
Relax and Rejuvenate With Healing Light: This 30 Minute Guided Meditation video will take you on an inner journey to cleanse your mind of negative thoughts, fears, doubts and worry.
The healing light combined with sound energy help to create a sense of calmness that will bring you back into the present moment.
Be sure to watch this video in full-screen mode for best results. Includes prompts every 5 minutes to help you train and track your meditation progress
> THE GOLDEN SOUND Experience Audio
Restore inner peace and find the clarity you've been looking for. No matter what life throws at you, this guided 20 minute session will lead you through a calming journey that helps reduce anxiety levels while providing relief from day-to-day worries.
Perfect for on the go and best experienced with headphones. Prompts every 5 minutes allow listeners to train their brains into relaxing more quickly - perfect if time's an issue!
Order now and begin your third-eye opening journey!