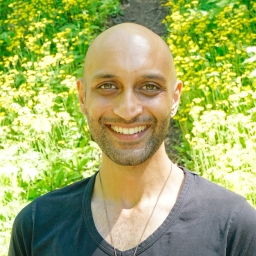 Talwinder "Terry" Sidhu
Beyond Mindfulness Meditation Teacher
---
Meditate: Breathe into Meditation and Awaken Your Potential
This is meditation made easy:
Think of a problem that you are currently dealing with in your life today.

Now think of the problem as a creation that has its own life separate from you.

Now assess how the problem came into existence. How did your problem come to life? How was it created?
In meditation, you are a creator studying the origin of a creation!
In Meditate: Breathe into meditation and awaken your potential, you will learn how to develop an authentic meditation practice and create a meaningful life!
Mental health issues are on the rise, and uncertainty and panic is everywhere. But if you learn to meditate, you can have a stress-free and fearless mind. The meditative mind seeks truth in everything. Where there is conflict, you will find clarity instead of chaos; and where there is pain, you will find management instead of a reaction. If a problem has been created in your life, you can create a solution through meditation.
In this beginners guide to meditation, you will:
✓ Understand what meditation is and how to prepare for it
✓ Train your mind to let go of distractions and start meditating in five simple steps
✓ Learn how to enter a deeper state of meditation and seek enlightenment
✓ Discover how chakras help you heal and guide your life forward
Realise who you truly are and what you're truly capable of. Unlock the incredibly benefits of meditation and start experiencing life from a higher perspective—whether that experience is a sensation in your present, a memory from your past, or a state of mind that is directing your future.
Order your copy and start meditating today.