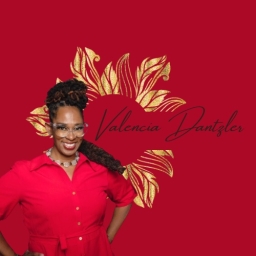 Valencia Dantzler
Helping You Live Life Vivaciously ❤️
---
The Vivacious Woman: From Sadness to SASSINESS in 30 Days
Introducing the Vivacious Woman: Your Path from Sadness to Sassiness!
Are you ready to transform your life and step into your full power as a woman? If you're tired of feeling down, stuck in sadness, and craving more confidence and sassiness, then this four-week coaching program is perfect for you!
The Vivacious Woman program is designed to empower women just like you to overcome challenges, boost self-esteem, and embrace your unique strengths. With our proven coaching techniques and a comprehensive workbook, you'll embark on a journey of self-discovery and personal growth like never before.
Each session of the Vivacious Woman program is a one-on-one coaching session with our experienced and compassionate coach, lasting a minimum of 60 minutes. You'll receive personalized guidance, support, and motivation as you navigate through the four-week program. Our coach will help you identify and overcome any obstacles holding you back, and guide you in developing practical strategies to enhance your self-confidence, sassiness, and overall well-being.
But that's not all! Along with the coaching sessions, you'll also receive a comprehensive workbook that complements the program. The workbook is filled with practical exercises, thought-provoking questions, and empowering activities that will deepen your self-awareness and accelerate your progress towards becoming a vivacious woman.
Imagine yourself stepping into every room with sassiness and confidence, radiating positivity and empowerment. Say goodbye to sadness and hello to a life filled with joy, self-love, and sassiness!
Are you ready to embrace your vivaciousness and unlock your full potential as a woman? Don't miss out on this life-changing opportunity. Sign up for the Vivacious Woman program now and embark on a transformative journey towards becoming the empowered, confident, and sassy woman you were always meant to be!
Don't let sadness hold you back any longer. Take the first step towards your transformation and enroll in the Vivacious Woman program today!