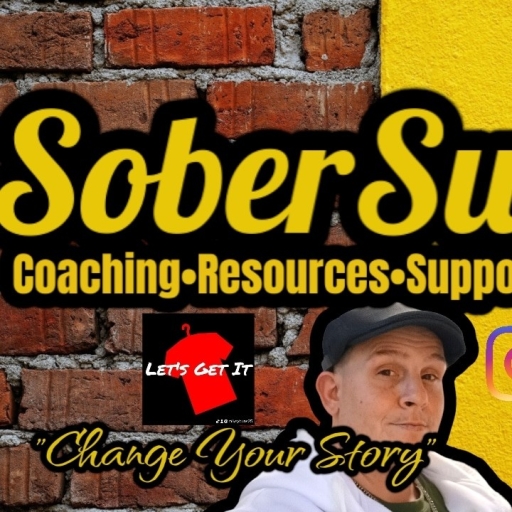 Magic Tree Superfoods (Shilajit, Sea Moss, Lions Mane Extract, and Many More Life-Saving Superfoods!)

✅Use Code: Mikey20 and receive 20% OFF EVERYTHING IN THE STORE!

Hello, I'm Mikey a Certified Addiction Recovery Coach and Peer Advocate Specializing in, but Not limited to, Substance Abuse Disorders, Alcoholism and other Behavioural Disorders. I am also the Creator of Lets Get It Recovery & the SoberSuccess Coaching Program. After over 25yrs of Active Addiction, A few years ago, something changed, well I changed. I had Enough. I was Sick & Tired, Homeless, and Broken in every sense of the word. I didn't JUST put down the drugs & alcohol. With the Help of GOD and Many Other Positive, Inspirational & Sober people, I set out to become the Best Version of Myself and and found my Passion to Help others do the same.

In the past 3yrs of continuous Sobriety I have managed to build a Strong Foundation and Recovery while Serving Others. I've also managed to gain a large following on All Social Platforms (FB, TikTok, YouTube, Insta., etc.,) due to my Daily Inspirational, Motivational & Educational Videos. My content is primarily geared towards those in Addiction Recovery, with Substance Abuse Disorders(SUD) and those Striving for Success in ANY area of life. Since receiving my credentials of CARC(Certified Addiction Recovery Coach) & CRPA-P(Peer Advocate) I have founded and currently operate a few Profitable Businesses & Online👨‍💻 Stores, including a Sobriety/Inspirational 👕Apparel Brand (Let's Get It Tshirts). I also created SoberSuccess Coaching(formerly Let's Get It Recovery Coaching) and NOW I Coach & Consult others on this platform to Destroy their "Limiting Beliefs", Break Negative Patterns, Change Their "Story" & become the Best Version of themselves. My Passion is to Serve Others and Provide Value. By combining my Recovery Coaching and Daily Experience I developed an upbeat type of Coaching Style I call SoberSuccess Coaching and I hope I can either Guide, Educate, Motivate or Inspire you to become SoberSuccessful and live your Best Life before its too late! There is Freedom From Addiction!

Don't forget to also tune in to the #1 Sober Podcast on Spotify, the SoberSuccess🎙Podcast and join Us on our Journey of Sobriety & Success❤🙏💪

🎧▶️Listen on YouTube ⬇️:

🎧 🟢Listen on Spotify⬇️: https://spotify.link/tZZM1NrREBb

☎️-National Substance Abuse Hotlines-☎️

Several substance abuse hotlines operate nationally for those struggling with addiction and their family members or other loved ones. Many of these hotlines also help people with other issues, such as mental health disorders and suicidal thoughts. This is an overview of some of the most widely used national hotlines for substance abuse.q

Crisis Text Line

Crisis Text Line offers advice and referrals for anyone who feels that they're experiencing a crisis. This can include drug and alcohol dependency, suicidal impulses, family problems, and other personal difficulties. To access the Crisis Text Line, text HOME to 741741 any time, day or night.

National Alliance on Mental Illness HelpLine

The National Alliance on Mental Illness operates a helpline for individuals and their loved ones who feel they may be experiencing a mental health crisis. People who know or suspect they have a mental disorder or who believe a loved one might be suffering from such an issue can call 1-800-950-NAMI (6264) to get help. The helpline also accepts text contacts, and the alliance may be reached via email. Responses go out during normal business hours.

National Drug Helpline

The National Drug Helpline is open to any individual dealing with addiction issues, including family members and other loved ones. Resources are available for those struggling with any addictive substance, including alcohol, and professionals are available to help 24/7/365 at 1-844-289-0879.

National Institute of Mental Health Information Resource Center

The National Institute of Mental Health Information Resource Center hotline helps people suffering from mental illness find the resources they need to get treatment, including crisis intervention. Services are available in English and Spanish at 1-866-615-6464 or 1-866-415-8051 for TTY users. Live help is limited to regular hours, though online chat is also available.

National Suicide Prevention Lifeline

The National Suicide Prevention Lifeline exists to help people feeling suicidal find the help they're looking for. The lifeline also has resources to assist people with addiction issues to find help. Callers can reach the lifeline at any time of the day or night at 1-800-273-TALK (8255), or 1-800-799-4889 for TTY users. Spanish-language services are available by calling 1-888-628-9454. Online chat is also available.

Partnership for Drug-Free Kids

Parents and other caregivers can reach out to the Partnership for Drug-Free Kids at 1-855-378-4373, to be connected with information and assistance dealing with children's addiction issues. Live services are available during regular hours only, but concerned guardians can reach the hotline by email and by text.

SAMHSA's National Helpline

The Substance Abuse and Mental Health Services Administration (SAMHSA) operates a 24/7/365 hotline that refers callers to mental health and substance abuse resources in their area. All programs recommended by SAMHSA meet federalguidelines and all inquiries are kept strictly confidential. Spanish services are available, as are English services, by calling 1-800-662-HELP (4357), or 1-800-487-4889 for TTY users.

If you are facing an immediate crisis or believe someone is experiencing an overdose, call 9-1-1 immediately.

Boys Town National Hotline:

1 (800) 448-3000 Crisis and resource line staffed by counselors to provide information about a variety of issues, including drug dependency.

Intensive Support SoberSuccess Coaching Program Bundle 3-Months/12-Wks.⭐Value: Priceless⭐

Full Support SoberSuccess Coaching Program Bundle 3-Month/12-Wks. ⭐Value: Over$500⭐ 24 Total Sessions

12 Sessions x 1 hour, 30 minutes

Develop SoberSuccess Recovery Wellness Plan ⭐INCLUDED In SoberSuccess Coaching Bundles⭐

1:1 Session — 1 hour, 30 minutes

SoberSuccess🎙Podcast

The "SoberSuccess Podcast" is Hosted by Me & My Girl Veronica ❤. Together, we discuss the Ups & Downs of Sobriety, Life, and Everything in Between. Recovery is Possible!❤ Available on YouTube, Spotify, etc.

SoberSuccess🎙Podcast on 🟢Spotify

The "SoberSuccess Podcast" is Hosted by Me & My Girl Veronica ❤. This is a Weekly Podcast to Educate, Entertain and Inspire You to Live Your Best Life.

Daily Prayer Videos

These are Daily Inspirational Prayer Videos for each day of the Year. They are excerpts from the "24hrs A Day" Book. They will also be added Daily, Thanks everyone...

Buy Me A Coffee

This is my Buy Me A Coffee Donation page where you can buy me a coffee or become a SoberSuccess Member and receive exclusive rewards.

Sign Up For The Free Monthly Exclusive SoberSuccess Newsletter

By signing up you'll receive Exclusive offers from Let's Get It Tshirts as well as be the first to receive the latest news from Let's Get It Recovery & the SoberSuccess Monthly Newsletter with Tons of Important Resources and Entertaining Blogs to help you on your journey of Success in Sobriety.